Maria Bruun
Interview : 1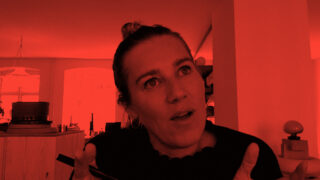 Grant Gibson [GG]: What initially piqued your interest in the AHEC project?

Maria Brunn [MB]: I thought it was quite interesting to ask a group of designers the same brief. We come from different places and different nationalities that have all been effected by the pandemic differently. And we also have different ways of working and different family structures. I found it quite interesting that this brief was so subjective. That it was about how we individually approached it. Personally, I've found that I needed to surround myself with beautiful, meaningful materials. I needed to have structure and order around me but I also needed my own space – something that was only mine and away from the family maelstrom. So, I'm excited to see how the other designers will solve these issues too and how the brief reflects their situation.

GG: Has the pandemic effected your practice?

MB: It has and it hasn't. In the short term it has delayed some of my product launches at events and fairs – DesignMiami/ Basel and the Salone in Milan… everything is either cancelled or postponed. So, in that sense it has effected my timeline. But in the longer term it hasn't changed anything. Even though the world is paused I still have the freedom to create new things. For me this has been a period where I could fill my mental backpack with ideas and sketches. So, in many regards, it has been reassuring – the fact that my foundation can never be taken away from me.

"I found it quite interesting that this brief was so subjective. That it was about how we individually approached it."
GG: And what is it about timber that you love as a material?

MB: I don't even know where to start. Wood is my material. I've been working with it for a very long time. It's the fascination of finding a log, cutting it up, planing it, sawing it up, studying its grain and structure, then arranging it into new combinations. It's about knowing its time and place and putting all that value into a piece of furniture. It's mind blowing.

GG: What can we expect from you?

MB: Right now I'm in the concept development stage. You can expect a table for one, a safe space that can be like a base for both work and play. But once people can come back into our homes they will all be able to gather around the same table. I'm also looking at creating a comfortable arm chair to go with it. I think it will involve some complex craftsmanship and details, which is something else I'm very interested in. We're looking at using wooden rotational joints, for instance.

GG: So it sounds as if you're creating a folding table?

MB: Yes. It came from my own needs. I wanted something that was mine – like a workstation or a place of reflection that I could leave and nothing would be touched when I came back. That's what I do in my studio. I leave things and I have them in the back of my mind. I might not be doing anything with them but they're in my presence and I still think about them. And I really needed that in my home life – a place where I could leave everything else as it was. The folding table also gave me the possibility of extending the space and inviting someone in. So I also wanted to create a place where I could connect myself to the world again.

"I also wanted to create a place where I could connect myself to the world again."
GG: Working with the manufacturer, Benchmark, digitally and using tools like Zoom must throw up some challenges I'm guessing?

MB: It does because normally I would always visit my carpenter. I would always go to her to wrap my head around a project. I feel we have to be much more structured. Normally I would go to Benchmark and meet Mark, the person who is creating my piece to have a conversation. I would understand how this person worked and I would ensure that he knows how I want the details carried out. Instead I'll be looking at some of the details – including the wooden hinge – over Zoom. It might be that things are more efficient.

GG: Can we talk about the specific timbers themselves – red oak, maple and cherry? Have you worked with them before?

MB: I think I will be working with a maple – it doesn't move too much and it's quite strong. Wood is a material that will move over time. It's effected by the temperature and humidity. So maple is a pretty reliable species of wood.
I worked with it many years ago and what I really liked about it is that it's transparent in a way. It's very light and white and can almost disappear in a space and blend in with the surroundings. I've worked a lot with oak but not red oak. It is a little rougher than the maple, which has a very fine grain. My detailing is very refined for this piece so I wanted a material that could underline that point.

GG: How do you judge your success in a project like this?

MB: That's a difficult question! To me it's about challenging the material. I'm really interested in seeing what Benchmark's crafts people can do and what their machines are capable of. I'm creating some complex details and I'm excited to see how they'll carry it out. So, success is being able to create some beautiful pieces and leaving my signature in this project – my understanding of wood and form but also my understanding of the theme and brief.